4NCL - a second Watford team will compete if there is sufficient interest - see right-hand column
Ex-world champion Garry Kasparov, returning after 12-year retirement, has +1 =5 -3 in St Louis  rapidplay.  
CLUB COMMITTEE MEETING
The club committee met 7 August, when it agreed arrangements for the following month's AGM and, in principle, major issues surrounding the present venue - see also next item.  The AGM agenda will be circulated towards the end of August, at which point the committee expects also to be able to confirm the playing arrangements for next season.   The committee also authorised the purchase of 10 new chess clocks.
CHANGE OF VENUE
It is now confirmed that the club's present venue, with which it has been associated for 15 or more years, will close at the end of 2017.   Proposed new arrangements are being discussed by the club committee.

JUNIOR 4 NATIONS CHESS LEAGUE
J4NCL 2017-18 weekend 1 takes place 30 September/1 October at De Vere Wokefield Park, near Reading.   The other weekends are 20-21 January and 21-22 April 2018 at Park Inn, Telford.   Watford intends to enter one team in Division 1 and two teams in Division 2 - 22 juniors have notified interest in playing and team selection is now under way.
In a change from previous years, it is confirmed that Division 1 (open to teams with average strength ELO1400 or ECF standardplay equivalent) will be FIDE-rated as well as ECF-graded.  Division 2 (open to teams with average strength ECF85 whether standardplay or rapidplay) will be ECF-graded only with playing conditions as in 2016-17.   
To meet FIDE requirements, Division 1 games will be played with a longer time-control, i.e. all moves in 80 minutes but with 10 second increments from move 1.   Saturday's games will commence 10.0, 13.30 and 17.0 with Sunday's games at 10.0 and 13.30.  Coaching sessions have been retained, aligned with the Division 2 timetable, but Division 1 players will be unable to attend these unless their games finish early.  The new rules  now appear on the 4NCL website.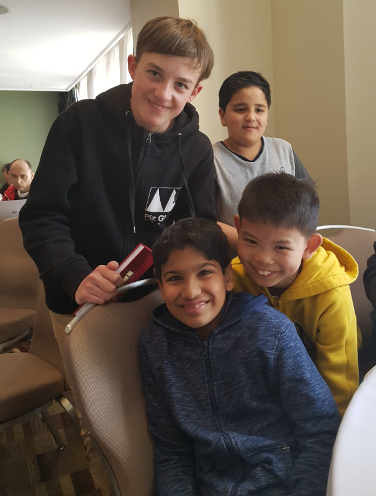 Happy juniors (L-to-R, Christian, Kaveer, Karan, Michael) at the April 2017 

J4NCL

Two Watford teams took part in this event over the weekend of 22-23 April in Solihull, near Birmingham.   Eleven teams played in Division 2 including, with many of our strongest juniors unavailable, the Watford teams.  

After the first day's play, Watford 1 were the only team with a 100% record while Watford 2 were one of four teams in joint second position.   However, on Sunday, nothing went right and both teams finished in mid-table.   For all board-by-board results, excluding Watford 1's first-round bye, go to the "Latest Results" section.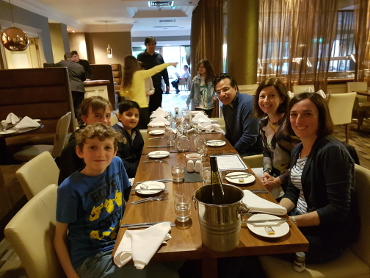 After a hard day's play at April 2017 J4NCL, 

children and parents relax over dinner  

More background on J4NCL appears at http://www.watfordchessclub.org/index.php/junior-4-nations-weekend

 
SIMULTANEOUS DISPLAYS v WATFORD JUNIORS
Simon Charles took on 9 juniors on 8 August, winning 8 games - not without difficulty in some cases - and drawing with Siena Gurjar.    In previous displays, Jerry Rudge took on 11 juniors on 18 July, conceding just one draw to Kian Shah, while Mike Boyce played 12 juniors on 4 July, winning all his games.  
PRICE CUP - FINAL RESULT 
The Price Cup, the club's individual championship, was again won by Andrew Stone who conceded just a solitary draw in seven games.   Jerry Rudge and Ernest Karumazondo finished joint 2nd with 5 points apiece, ahead of Mike Boyce (4.5) and Neil Dunlop, Samir Yassir and Darrell Pigott (all 4 pts) with 10-year-old Michael Lee among four players on 3.5 points. Seventeen members of the club took part with Darrell winning the Dobson Shield and Michael the Silver Knight.
NEWS IN BRIEF:
British championships began 28 July.  Kian Shah finished on 4.5/7 (joint 6th) in the u-11 while, in the u-9, Kaveer Mehta finished on 3.5/6 (losing to 2 of the top 3 seeds) and 3 other Watford juniors each scored 3/6.  Siena Gurjar recorded 4.5/6 in the u-8 to become joint girls champion while brother Roshan eschewed the junior events and scored 4/5 in the weekend under-120 competition.   In the u-12, Adithya Pramod Paleri finished joint 3rd on 5/7.
UK Chess Challenge gigafinals, 22-23 July:  Boys:  Maanav Nagda 4.5/6 (4th) in u-8, Kian Shah 5.5/6 (2nd) in u-10, Param Vyas 4.5/6 (6th) in u-13. Girls:  Lettie Ganyushin 4/6 in u-9, Anaya Popat 4/6 in u-13
Omowale Nelson 4/6 in Kings Place u-170, 9 July
Kian Shah 6.5/7 and Avi Chloe Hsu 5/7 (losing only to Kian) in EPSCA u-11 finals, 4-5 July
A games cafe has opened at 87 Queens Road, Watford.   Distinguishing feature is that it stocks a wide range of games, including chess, for hire (cover charge, £1.50 per hour) for play at the cafe.   Menu at d20cafe.co.uk 
UPCOMING CONGRESSES (MAINLY LOCAL):
Until this is updated, please refer to the ECF Calendar 

         4 NATIONS CHESS LEAGUE - DIVISION 4 SOUTH CONFIRMED
The club will enter the 4 Nations Chess League (the adult equivalent of J4NCL, although also open to our juniors) which meets over five weekends in 2017-18, starting on 11-12 November.
One team is now definite (selection from Rudge, Boyce, Lancaster, Nelson, Karumazondo, Dunlop, Gogna, Yassir, Sloan, Charles, Pigott, Gogna, Shah, Vig, Gurjar) with a second team also taking part if there is enough interest from other club members - the club committee will make a final decision no later than its September meeting.   For a provisional list of opposing teams, go to http://www.4ncl.co.uk/1718_teams.htm
The four later 4NCL weekends are 13-14 January, 10-11 February, 24-25 March and 5-7 May (3 days), all at De Vere Wokefield Park, near Reading, making a total of 11 rounds.  All games are ECF-graded and FIDE-rated so "gold" 2017-8 ECF membership will be required. 
Main points to note are that it's one round each day, with the rate of play being 40 moves in 100 minutes (plus 30 second increments from move 1) followed by the rest of the game in 50 minutes (again with 30 second increments). That means a 60-move game could conceivably take as long as 6 hours, far longer than local league chess.   Starting times are normally 2.0 on the first day of a weekend, 1.0 on the middle day of a three-game weekend, and 11.0 on the final day of a weekend.
RAPIDPLAY TOURNAMENT, 1 AUGUST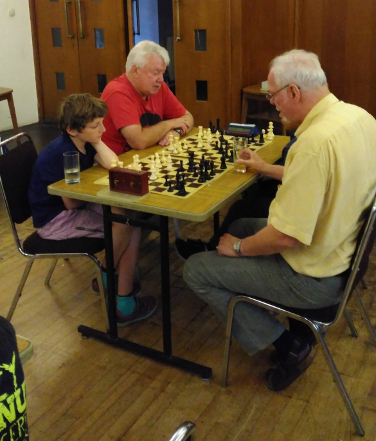 Simon Charles, en route to winning the club rapidplay on 1 August, takes on Theo Hurrell with eventual runner-up Cecil Sloan in the background
The rapidplay tournament (graded) held at the club on Tuesday 1 August was won by Simon Charles with 5/5 ahead of Cecil Sloan (3.5) and juniors Bruno, Nikhil and Zak with 3 points apiece.   14 players took part.
On 11 July, four adults and eight juniors competed with Mace Carnochan (5/5) sweeping all before him and Simon Charles and David Healey joint second on 3.5
Final rapidplay of the summer provisionally on 29 August.
JUNIOR WAITING LIST
The junior waiting list is currently closed.  Use the "Contact Us" link for more information.
As well as its Tuesday club-nights, the club offers two-hour (6-8) training sessions on Sunday evenings at The Happy Hour pub in Eastbury Road which are free and open to non-member juniors.   You can just turn up.   At least one adult member of Watford Chess Club is always present to supervise matters.

 Jeff Tomy, joint winner of London under-10 championship, December 2016, with Southern Counties junior organiser, Angela Eyton
ANNUAL GENERAL MEETINGS
The club's next Annual General Meeting will take place at the Town & Country Club, Halsey House, Rosslyn Road, Watford commencing 7.45 on Tuesday 5 September 2017.  One item will relate to the proposed new club constitution - see right-hand column.  At the previous Meeting on 6 September 2016, the following appointments were made:
post

(** = committee)

Postholder

2016-17

 
 

** President

Mike Boyce

** Club Secretary

Paul Littlefair

**Treasurer

Jerry Rudge

** Membership Secretary

Vacant

Juniors Secretary

Roger Lancaster 

Tournament Secretary

Mike Boyce

Match Captains

Andrew Stone (1st, Russell)

Mace Carnochan (2nd) 

Cecil Sloan (3rd)

Paul Littlefair (Sharp)

Sanjay Vig (4th, u-140 k-o)

Pete Edwards (u-120 & u-120 k-o)

Christian Bland (Hertford & District)

Webmaster

Geir Erik Nielsen

Equipment Curator

Mace Carnochan

** Other Committee members

(up to 5 additional positions)

Roger Lancaster

Cecil Sloan

3 vacancies

Auditor

Philip Abbott
 Main points from AGM - annual subscriptions unchanged except for £5 junior increase to cover extra J4NCL costs, Cecil Sloan elected to executive committee, Watford fifth team withdraws from Herts League (although u-120 team remains) due to insufficiency of available players, and Watford junior team poised to compete in Hertford & District League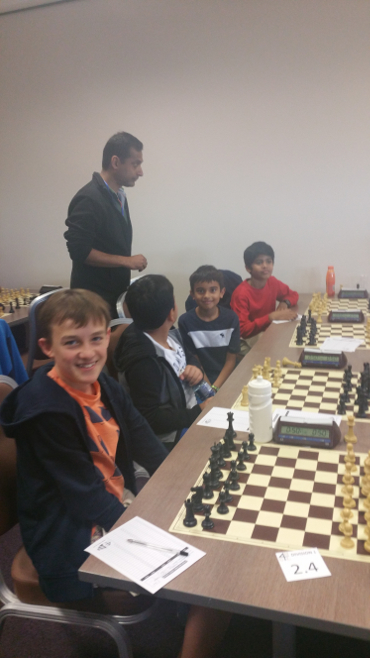 Watford J4NCL team in October 2016 - seated L to R, Christian, Karan, Kian, Jeff

HERTFORDSHIRE CHESS LEAGUE, 2016/7
 Slip-ups by opposing teams meant that Watford narrowly retained the Division 1 title, which they have now won for the 5th consecutive year, before completing a "double" by winning the county open knock-out cup (known as the Russell Trophy) for the third time in those years.
Watford amassed 15 match-points (+6 =3 -3) from a maximum of 24. In a close finish, this left them just ahead of Hemel Hempstead and Little Heath (both with 14 match-points), Royston (13), Hertford (12), St Albans (10) and Bishops Stortford whose total of 6 match-points meant relegation.
Watford 2 (+5 =1 -6) and Watford 3 (+1 =1 -10) each played in Division 2, with the former ending in mid-table but the latter relegated.   Watford 4 (+10 =1 -3) won its last match to gain promotion, albeit only on tie-break, from Division 5. Another Watford team finished third (+8 =2 -4) of eight teams in the related under-120 league while yet another lost to Stevenage in the final of the county under-140 knockout cup.
The separate Hertford & District League, restricted to players graded under 160, was contested by the club's junior team (+1 =1 -6) against adult opposition. The juniors found the opposition tough but enjoyed the experience.  Full results of all events may be found in the "Latest Results" section.
LAWS OF CHESS - NEW LAWS INTRODUCED JULY 2017
A new set of Laws of Chess became effective on 1 July.   Among other changes, two additions were made to the list of what constitutes an "illegal move", namely (1) using two hands rather than one and (2) pressing one's clock without first having made a move.   Such actions are now capable, in themselves, of losing a game.
KEITH ARKELL SIMULTANEOUS
The English Chess Federation's "Chess Master @ The Local" programme arrived at The Happy Hour pub in Eastbury Road, Watford, on 25 August 2016   
Local juniors turned out in numbers to take on grandmaster Keith Arkell, along with some adult members of the club and rather more members of the general public who had been attracted by the publicity.   In all, 20 people played against Keith (a couple more than once!) but only former Zimbabwean international Ernest Karumazondo prevailed.
For more information, go to this Watford Observer article
FIDE ARENA TITLES 
The following is reprinted from the official FIDE website:
"FIDE's decision to introduce titles for the amateur and lower rated players is a big innovation for the global chess community. There is notable local chess activity around the world, but the top players of local chess clubs do not reach the traditional FIDE title level. FIDE provides a challenge to these players, as well as those players who enjoy chess from their living room, to become eligible for one of the official titles designated for them by playing chess in the FIDE Online Arena. It is important to remind that an official FIDE title is noted on the player's profile card on the FIDE website and precedes a player's name in online and over the board competitions as well.
"The Arena titles address men and women alike. There is no need to create separate titles for the women. Historically, the women titles were developed so that there is a comparable number of women titled players reflecting the competition level of women championships. And this is still the case today, even if the top women players have earned their place in open section as well. In a lower level of competition distinguishing women from men serves no purpose.
"The Arena titles are automatic titles. The Arena server monitors players' activity and informs a player for his/her eligibility for a title. It the player accepts the title, it is awarded after the paypal payment is completed. Within the next couple of hours, the title is also mentioned on the player's profile card on FIDE website.
"Acquiring an Arena title requires a continuous rating over the title's rating threshold for a number of games. The Arena Grand Master (to-become) has to remain continuously for a certain number of games over 2000 Elo points, the Arena International Master over 1700, the Arena FIDE Master over 1400 and the Arena Candidate Master must remain over 1100 Elo points. The number of games vary according to the time control. 50 games for rapid play, 100 games for Blitz and 150 games for Bullet time control. There are separate counters for each time control category and the titles can be achieved in any of the three time controls. When a player drops under the threshold (Elo points mentioned above are permitted) his/her counter for the specified title, for the specified time control turns to zero.
"The FIDE Online Arena server monitors players' activity for all 4 titles, for all 3 different time control categories. A player eligible for a title receives an automated message by the server informing him/her for his/her achievement. A player may become eligible for more than one titles and it is possible to obtain either the higher or the lower title. The pricing policy is designed in such a way so that a title's full fee is paid at once by previously untitled players. An 'upgrade' from a lower to a higher title requires the payment of the difference of the titles' full fee.
"The FIDE titles for the lower rating band regulations can be found 
here
, and the titles' pricing policy is very well explained. Take a look.
"All FIDE Online Arena members are eligible for a title of the lower rating band including players with FM/WFM and CM/WCM titles. Already awarded Arena titles are valid for life, even if the player's membership has expired, or he/she decides to abandon online gaming and focus to over the board chess exclusively.
"Players who receive a message that they are eligible for an Arena title are prompted to acquire their title. A title's eligibility is lost when the player remains under the title's threshold for more than 30 days in the specified time control that he earned his/her title right. Needless to mention that title seekers are prompted to renew their membership before the expiration date and remember that rating alignment counts as one game only. Beware that rating alignment may drop a player under the threshold as over the board games are sometimes reported and rated with a month's delay"
The above is reprinted for members' information and implies no recommendation or otherwise. 
PROPOSED CLUB CONSTITUTION
1. Name
The name of the Club shall be "WATFORD CHESS CLUB".
2. Objective
The objective of the Club shall be to provide opportunities for competitive and social chess.
3. Affiliation
The Club shall be affiliated to the Hertfordshire Chess Association.
4. Officers and Committee
4.1 The Officers of the Club shall be Club President, Club Secretary and Club Treasurer. No person shall hold more than one Office at any one time.
4.2 The Club shall be managed by a Club Committee in accordance with the Club's Constitution and the decisions of the Club's General Meetings.
4.3 The Committee shall consist of the three Officers, Juniors Secretary, Membership Secretary, and up to four other Members, each of whom shall be elected at a General Meeting.
4.4 The Committee shall meet at its discretion. It shall have the power to co-opt Members to fill any vacancy, combine rôles temporarily, delegate duties to sub-committees, and to co-opt members for special purposes.
4.5 The Committee shall have the power to settle disputed points not provided for in this Constitution.
4.6 A quorum at a Committee meeting shall be 4 (four) Committee members. A quorum must exist at the time of any vote for that vote to be valid.
5. General Meetings
5.1 Annual General Meeting
5.1.1 An Annual General Meeting of the Club shall be held in September every year to transact the following business:
1. To present and approve the Club's accounts to the end of the previous financial year.
2. To receive reports on the past year's activities from the Committee.
3. To consider for adoption proposals from the Committee for changes to the annual subscriptions and fees.
4. To consider any motions, details of which shall have been given in the notice convening the Meeting.
5. To elect Officers and the Committee for the following year.
6. To appoint a suitably qualified examiner for the following year to report on the Club's accounts.
5.1.2 Notice of any motion for discussion at the Meeting shall be given in writing to the Club Secretary, signed by two Members of the Club who are eligible to vote, one to propose and one to second the motion, not less than one month prior to the Meeting.
5.1.3 Nominations for Committee membership shall be restricted to Members of the Club aged over 16, and shall be given to the Club Secretary, proposed and seconded by Members of the Club who are eligible to vote, not less than 14 days prior to the Meeting.
5.1.4 The Chairman of the Meeting shall have absolute discretion to accept or reject motions or nominations of which proper notice has not been given.
5.2 Extraordinary General Meeting
5.2.1 An Extraordinary General Meeting may be called by the President or Secretary, or by a quorum of the Committee, or by a quorum of the membership, upon written request to the President or Secretary stating their reason.
5.2.2 No matters shall be considered at an Extraordinary General Meeting other than those included in the notice convening the Meeting.
5.3 General Meeting Procedure
5.3.1 Members shall be notified of the date and time of a General Meeting, and be given, sent or directed to an Agenda for the Meeting, not less than 14 days prior to the Meeting.
5.3.2 Motions and nominations shall succeed if they achieve a simple majority of votes, unless expressly stated otherwise in this Constitution. The Chairman of the Meeting shall have a normal vote. If votes are tied, the motion or nomination fails.
5.3.3 Only Members aged 16 or over at the date of the General Meeting shall be entitled to vote at that Meeting.
5.3.4 Non-voting Members may attend General Meetings.
5.3.5 A quorum of the membership for a General Meeting shall be 8 (eight) or half the number of Members eligible to vote, whichever is the lower. A quorum must exist at the time of any vote for that vote to be valid.
6. Club Membership and Subscriptions
6.1 Adults and children may apply for Club membership if they have attained the standard of chess proficiency required by the Club.
6.2 The Committee may refuse any application for membership without giving any reason. Categories of membership may be restricted on grounds of sustainability and balance.
6.3 The membership subscription year shall be 1st October to 30th September.
6.4 The annual subscription, and entrance fees or visitors' fees if any, shall be determined at a General Meeting, and charged at the discretion of the Committee.
6.5 Any existing Member whose subscription is unpaid on 1st November shall no longer be entitled to the privileges of Club membership until it is paid.
6.6 The Committee may suspend or expel a Member if, in the opinion of the Committee, the interests of the Club have been compromised by that Member. Before such Committee action, the Member shall be given 21 (twenty-one) days written notice to attend a meeting of the Committee, the notice also stating the allegations against the Member. No sanction is to be applied before the Member has had an opportunity to respond to the allegations. The Member shall have the right to be represented or accompanied by another member. No sanction is to be applied without two thirds of the Committee then present voting for the sanction.
7. Safeguarding
7.1 The Club shall maintain a safeguarding policy governing children and vulnerable adults. Members are required to comply with this policy.
7.2 Changes to the policy may be made at the Committee's discretion, taking due note of ECF requirements.
8. Finance
8.1 The financial year shall be 1st August to 31st July.
8.2 The financial accounts shall be audited or examined by a person who is independent of the Committee and then presented to a General Meeting for approval.
8.3 The funds of the Club shall be held in the name of the Club at such bank as the Committee shall select.
8.4 Funds and property of the Club shall not be distributed among members, except as legitimate out-of-pocket expenses incurred in running the Club.
8.5 Any surpluses arising shall be applied to the furtherance of the objectives of the Club or for charitable purposes.
8.6 The Club is a non-profit making organisation.
9. Competition
9.1 The Committee shall arrange such Club and Inter-Club events and competitions as it considers appropriate.
9.2 Club Championships shall be held according to rules which shall be published at least 14 (fourteen) days prior to the Championship's entry closing date. Members may only compete in the Club Championships if they have paid the appropriate membership subscription.
10. Amendments to Constitution
A resolution to amend the Constitution shall be proposed only at a General Meeting and shall be passed only if two thirds of those present at the vote and eligible to vote do so in favour.
11. Dissolution
11.1 A resolution to dissolve the Club shall be proposed only at a General Meeting and shall be passed only if two thirds of those present at the vote and eligible to vote do so in favour.
11.2 The dissolution shall take effect from the date of the resolution and the Members of the Committee shall be responsible for the winding-up of the assets and liabilities of the Club.
11.3 Any funds remaining shall be devoted to objectives similar to those of the Club or to charity.
ABERYSTWTYH 2014 - FIDE AMENDS RULES
Those interested in the history of this dispute can find details at http://watfordchessclub.org/index.php/c ... cle?id=118  
The new draft FIDE Laws of Chess, just published, include a new law 10.2 reading "The total score of any game can never exceed the maximum score normally given for the game ..." which covers this point.    
INTERIM CHILD PROTECTION POLICY
Club members are asked to note the addition, effective 2 November 2015, of an extra sentence reading "The Interim Child Protection Policy shall be interpreted as applying to vulnerable adults as well as to children."