Watford complete Herts "double" by winning Russell Trophy, beating Hemel Hempstead 4-2 in the cup final
European Court of Justice:  Opinion of Advocate-General in The English Bridge Union Limited v Commissioners for Her Majesty's Revenue & Customs delivered 15 June. Broadly favours EBU in relation to duplicate bridge, and thus indirectly chess, although Opinion is not binding.  Opinion appears to this writer persuasive in exempting competition entry fees from VAT but may be without wider application.  See also statement by EBU chairman in left-hand column below.
BREAKING NEWS - Club committee confirms 4NCL entry (see RH column) and sets 5 September for AGM
STATEMENT BY CHAIR OF ENGLISH BRIDGE UNION
We are very pleased that a report prepared by the European Court of Justice has concluded that contract bridge should be considered a sport for VAT purposes.
This is a non-binding recommendation, but if confirmed later this year the EBU would no longer need to charge VAT on entry fees to its competitions, and would receive a rebate on VAT which it had previously paid. This will have huge benefits as it will allow us to invest further in the game, and make entries to EBU competitions cheaper, thus allowing more people to enjoy playing bridge, and enabling more to experience the social and mental benefits that playing bridge offers. The final judgement is expected in the autumn.
Advocate General Maciej Szpunar gave his opinion that for the purposes of the VAT exemption a definition of 'sport' had different components, key among which was that it was intended to be understood as "training of mental or physical fitness in a way that is generally beneficial to the health and well-being of citizens". He recognised that bridge met these criteria and also that the International Olympic Committee was one of a number of organisations which "expressly include mental sports or endorse activities without a physical element", concluding that this implies that they be "generally regarded as similar to established sports".
EBU Chairman, Jeremy Dhondy, welcomed the Advocate General's report, saying:

SIMULTANEOUS DISPLAY v WATFORD JNRS, 4 JULY
Club president Mike Boyce in action from 6.45 onwards against up to 20 juniors - full details to follow.

Hertfordshire Chess League, 2016/7
 Slip-ups by opposing teams mean that Watford narrowly retained the Division 1 title, which they have now won for the 5th consecutive year, before completing a "double" by winning the county open knock-out cup (known as the Russell Trophy) for the third time in those years.
Watford amassed 15 match-points (+6 =3 -3) from a maximum of 24. In a close finish, this left them just ahead of Hemel Hempstead and Little Heath (both with 14 match-points), Royston (13), Hertford (12), St Albans (10) and Bishops Stortford whose total of 6 match-points meant relegation.
Watford 2 (+5 =1 -6) and Watford 3 (+1 =1 -10) each played in Division 2, with the former ending in mid-table but the latter relegated.   Watford 4 (+10 =1 -3) won its last match to gain promotion, albeit only on tie-break, from Division 5. Another Watford team finished third (+8 =2 -4) of eight teams in the related under-120 league while yet another lost to Stevenage in the final of the county under-140 knockout cup.
The separate Hertford & District League, restricted to players graded under 160, was contested by the club's junior team (+1 =1 -6) against adult opposition. The juniors found the opposition tough but enjoyed the experience.  Full results of all events may be found in the "Latest Results" section.

JUNIOR 4 NATIONS CHESS LEAGUE
J4NCL 2017-18 weekend 1 is now confirmed as 30 September/1 October at De Vere Wokefield Park, near Reading.   The other weekends are 20-21 January and 21-22 April 2018 at Park Inn, Telford.
In a change from previous years, it is intended that Division 1 (open to teams with average strength ECF100 or ELO equivalent) will be FIDE-rated as well as ECF-graded.  Division 2 (open to teams with average strength ECF85) will be ECF-graded only with playing conditions as in 2016-17.   
To meet FIDE requirements, Division 1 games would be played with a longer time-control, i.e. all moves in 80 minutes but with 10 second increments from move 1.   Saturday's games would commence 10.0, 13.30 and 17.0 with Sunday's games at 10.0 and 13.30.  Coaching sessions would be retained, aligned with the Division 2 timetable, but Division 1 players would be unable to attend these unless their games finished early.  There's a brief consultation period so the changes are not yet, strictly speaking, finalised.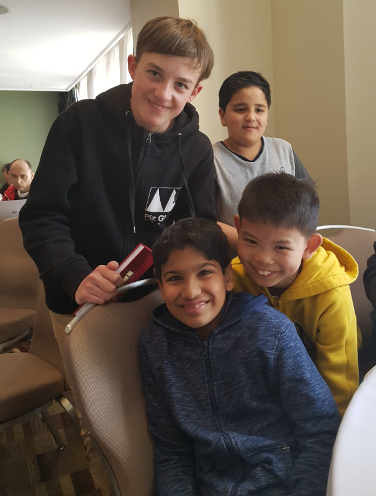 Happy juniors (L-to-R, Christian, Kaveer, Karan, Michael) at the April 2017 

J4NCL

Two Watford teams took part in this event over the weekend of 22-23 April in Solihull, near Birmingham.   Eleven teams played in Division 2 including, with many of our strongest juniors unavailable, the Watford teams.  

After the first day's play, Watford 1 were the only team with a 100% record while Watford 2 were one of four teams in joint second position.   However, on Sunday, nothing went right and both teams finished in mid-table.   For all board-by-board results, excluding Watford 1's first-round bye, go to the "Latest Results" section.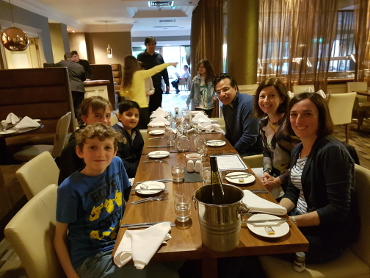 After a hard day's play at April 2017 J4NCL, 

children and parents relax over dinner  

More background on J4NCL appears at http://www.watfordchessclub.org/index.php/junior-4-nations-weekend
CLUB RAPIDPLAY TOURNAMENT, 6 JUNE
This was a 5-round graded rapidplay, 20 minutes per player, which attracted 15 entries - 6 adults and 9 juniors.   The adults, being higher-rated, generally came out on top despite several narrow escapes with only one junior actually beating his adult opponent.  Overall winner was Cecil Sloan with 4.5 points ahead of Ernest Karumazondo on 4.
News in brief:
Kian Shah 6/6 in Bucks UKCC megafinal, 21 May
Ernest Karumazondo wins Golders Green u-170 rapidplay with 5.5/6, 6 May
Adithya Pramod Paleri 3/5 in Hampstead u-2200, 29-30 April (ELO 2019 performance)
Karan Bhagat, Conrad Dickinson, Anaya Popat all 4.5/6 in Herts UKCC megafinal, 29 April
A games cafe has opened at 87 Queens Road, Watford.   Distinguishing feature is that it stocks a wide range of games, including chess, for hire (cover charge, £1.50 per hour) for play at the cafe.   Menu at d20cafe.co.uk 
Upcoming Congresses (mainly local):
Until this is updated, please refer to the ECF Calendar 
PRICE CUP - FINAL RESULT
The Price Cup, the club's individual championship, was again won by Andrew Stone who conceded just a solitary draw in seven games.   Jerry Rudge and Ernest Karumazondo finished joint 2nd with 5 points apiece, ahead of Mike Boyce (4.5) and Neil Dunlop, Samir Yassir and Darrell Pigott (all 4 pts) with 10-year-old Michael Lee among four players on 3.5 points. Seventeen members of the club took part with Darrell winning the Dobson Shield and Michael the Silver Knight.

         4 NATIONS CHESS LEAGUE - DIVISION 4 SOUTH CONFIRMED
The club will enter the 4 Nations Chess League (the adult equivalent of J4NCL, although also open to our stronger juniors) which meets over five weekends in 2017-18, starting on 11-12 November.
One team is now definite with a second team possible if there is enough interest - the club committee will revisit this later.
The four later 4NCL weekends are 13-14 January, 10-11 February, 24-25 March and 5-7 May (3 days), all at De Vere Wokefield Park, near Reading, making a total of 11 rounds.  All games are ECF-graded and FIDE-rated so "gold" 2017-8 ECF membership will be required. 
Main points to note are that it's one round each day, with the rate of play being 40 moves in 100 minutes (plus 30 second increments from move 1) followed by the rest of the game in 50 minutes (again with 30 second increments). That means a 60-move game could conceivably take as long as 6 hours, far longer than local league chess.   Starting times are normally 2.0 on the first day of a weekend, 1.0 on the middle day of a three-game weekend, and 11.0 on the final day of a weekend.
Junior waiting list
The junior waiting list is currently closed.  Use the "Contact Us" link for more information.
As well as its Tuesday club-nights, the club offers two-hour (6-8) training sessions on Sunday evenings at The Happy Hour pub in Eastbury Road which are free and open to non-member juniors.   You can just turn up.   At least one adult member of Watford Chess Club is always present to supervise matters.
Coaching for juniors
We're still looking for club members willing and able to give talks (with large demonstration board available) on any aspect of chess to our juniors - preferred start time 7.0 with 30 minutes duration but flexible to accommodate speakers. Choice of three levels - basic (mainly targeted at juniors below ECF50), intermediate (ECF50-100) or advanced (ECF100+) at speaker's choice 

 Jeff Tomy, joint winner of London under-10 championship, December 2016, with Southern Counties junior organiser, Angela Eyton
Keith Arkell simultaneous
The English Chess Federation's "Chess Master @ The Local" programme arrived at The Happy Hour pub in Eastbury Road, Watford, on 25 August.   
Local juniors turned out in numbers to take on grandmaster Keith Arkell, along with some adult members of the club and rather more members of the general public who had been attracted by the publicity.   In all, 20 people played against Keith (a couple more than once!) but only former Zimbabwean international Ernest Karumazondo prevailed.
For more information, go to this Watford Observer article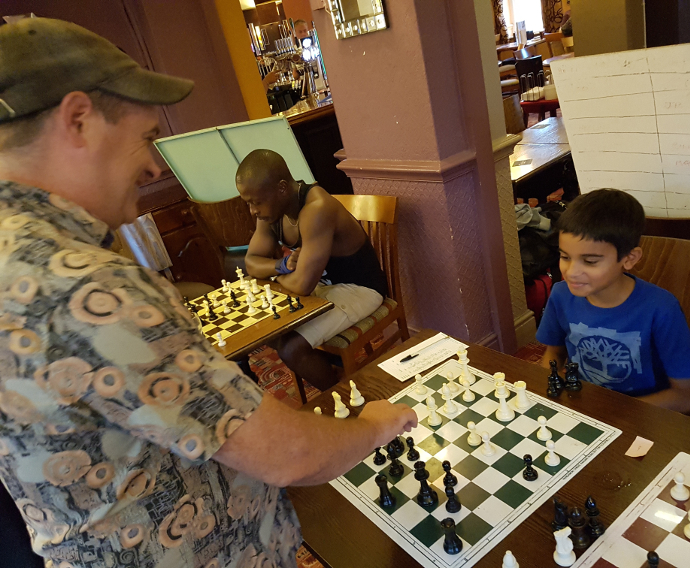 Kian Shah, 9, ran grandmaster Keith Arkell close but former Zimbabwe international Ernest Karumazondo (background) was the only one to beat him
Club committee and officers
The club's next Annual General Meeting will take place at the Town & Country Club, Halsey House, Rosslyn Road, Watford commencing 7.45 on Tuesday 5 September 2017.  At the previous Meeting on 6 September 2016, the following appointments were made:
post

(** = committee)

Postholder

2016-17

 
 

** President

Mike Boyce

** Club Secretary

Paul Littlefair

**Treasurer

Jerry Rudge

** Membership Secretary

Vacant

Juniors Secretary

Roger Lancaster 

Tournament Secretary

Mike Boyce

Match Captains

Andrew Stone (1st, Russell)

Mace Carnochan (2nd) 

Cecil Sloan (3rd)

Paul Littlefair (Sharp)

Sanjay Vig (4th, u-140 k-o)

Pete Edwards (u-120 & u-120 k-o)

Christian Bland (Hertford & District)

Webmaster

Geir Erik Nielsen

Equipment Curator

Mace Carnochan

** Other Committee members

(up to 5 additional positions)

Roger Lancaster

Cecil Sloan

3 vacancies

Auditor

Philip Abbott
 Main points from AGM - annual subscriptions unchanged except for £5 junior increase to cover extra J4NCL costs, Cecil Sloan elected to executive committee, Watford fifth team withdraws from Herts League (although u-120 team remains) due to insufficiency of available players, and Watford junior team poised to compete in Hertford & District League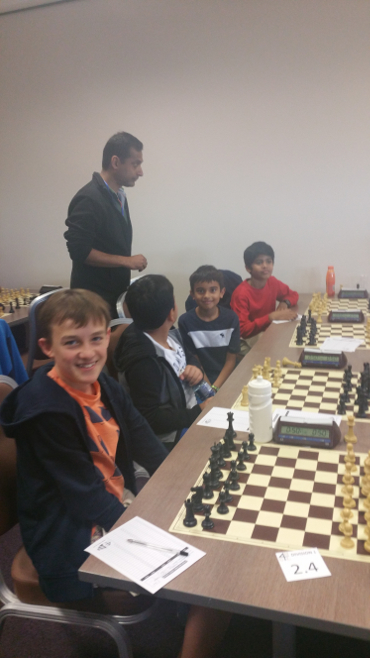 Watford J4NCL team in October 2016 - seated L to R, Christian, Karan, Kian, Jeff
 Youngest (Harish) and oldest (Simon) players at Keith Arkell simul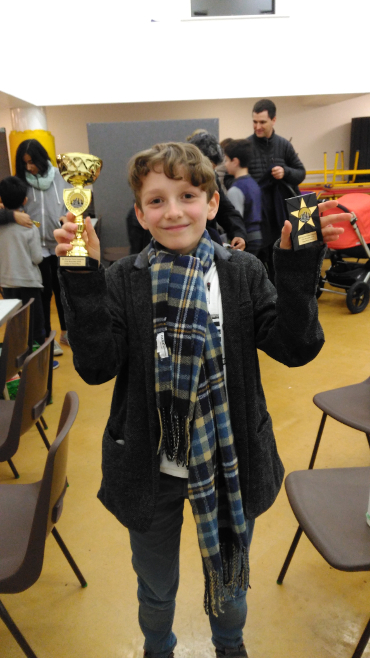 Theo Hurrell celebrates third place in the Shenley u-10 event, November 2016
Aberystwyth 2014 - FIDE amends rules
Those interested in the history of this dispute can find details at http://watfordchessclub.org/index.php/c ... cle?id=118  
The new draft FIDE Laws of Chess, just published, include a new law 10.2 reading "The total score of any game can never exceed the maximum score normally given for the game ..." which covers this point.  
Interim Child Protection Policy
Club members are asked to note the addition, effective 2 November 2015, of an extra sentence reading "The Interim Child Protection Policy shall be interpreted as applying to vulnerable adults as well as to children."