Entry forms for the Watford Junior (under-12) Rapidplay at West Herts Sports Club on Monday 30 July can now be downloaded from this site - click the appropriate link in the "Policies and Procedures" menu, top right on this page
If you are a member of Watford Chess Club (the "Club") or a junior on the Club's waiting list, your personal data will be processed by the Club  for the purposes of Club and membership administration and to facilitate your participation in club competitions and similar events.   For fuller details,  click "Privacy Policy" link under "Policies and Procedures". 
The "Contact Us" link on this website is now working again - apologies to anyone inconvenienced while it was down
CLUB NIGHTS
The club meets on Monday evenings (6.30 - 10.45) at West Herts Sports Club, 8 Park Avenue, Watford WD18 7HP.   This includes public holidays with the exception of Christmas/New Year.
Chess is played in the Function Hall although members and visitors have access to the separate and comfortable lounge bar area - as well as alcoholic beverages, the bar serves tea, coffee, soft drinks and a limited range of snacks including rolls.   Juniors have priority during the first hour.
There is usually ample free parking on Mondays, but less so when cricket matches are being played.   
Intending new members of all levels and abilities are welcome.   Club policy is that newcomers are allowed three visits as guests to sample the atmosphere and decide whether they wish to join the club - or, in the case of juniors, the junior waiting list.  (Juniors on the club waiting list are able to continue as guests).
Please note the new Privacy Policy (effective 25 May 2018) which explains how the club deals with personal data.  The new policy (see link, top right) is set out on this website and club members should familiarise themselves with it.
See further down page for junior sessions on Sundays.
FIDE DEVELOPMENTS - PRESIDENCY UPDATE
The short version is that FIDE president, or perhaps ex-president, Kirsan Ilyumzhinov (a leading political figure in one of the more obscure republics of the Russian Federation) is on the United States proscribed list for - and we will be cautious here - real or imagined misdeeds.   Consequently the US has implemented sanctions against KI and organisations with which he is involved which include FIDE, whose main bank accounts have been frozen.   (It is believed that this affects only transnational payments rather than purely local payments such as staff salaries but nevertheless this has a severe impact).
Whether as a consequence of these sanctions or for other reasons, the remainder of the FIDE hierarchy asked KI to step down as president, something he has declined to do.   Main actor among said FIDE hierarchy is Georgios Makropoulos whose record as deputy president appears to show him, until recently, as supportive of KI and many of the latter's more controversial decisions.   GM appears now to consider that KI has lost the post of president and that he, GM, has therefore inherited it.
In any case, the term of the existing presidency expires later this year and both KI and GM have announced their intentions to stand.   In this they were joined by English grandmaster Nigel Short who is standing on a platform of, among other things, cleaning up FIDE while a fourth candidature - see below - has further complicated matters,
Veteran chess columnist Leonard Barden wrote, in The Guardian of 25 May, "... (KI's) campaign has unravelled when it was discovered that his nomination for FIDE secretary, listed as Glen Stark of the US, had several false references in his CV and was allegedly actually named Igor Shinder."   Meantime, GM's campaign has been boosted by the announcement that the ECF's Malcolm Pein has joined his ticket and will stand for the post of FIDE deputy president.   The ECF, it should be said, has itself indicated no preference as between the tickets respectively involving Short and Pein.
Late in the day, former Russian deputy premier A Dvorkovich has joined the runners, fuelling expectations that KI has lost Vladimir Putin's support and will drop out.   Former world champion Gary Kasparov noted, "I don't think you can say that A Dvorkovich 'decided' to run for FIDE President.  He was probably told to do so.  That's how things work in authoritarian regimes".

HERTFORDSHIRE CHESS LEAGUE
 The 2017-18 season began in early October.   Watford, which headed the Hertfordshire League for the previous five years, ran four teams in the main section of the league (in Divisions 1, 2, 3 and 4 respectively) and a fifth team in the under-120 league.    
After a long run at the top, Watford relinquished the Division 1 title with the final league table as follows:
| | | | | | | |
| --- | --- | --- | --- | --- | --- | --- |
| HERTS DIVISION 1 | P | W | D | L | GPs FvA | MPs |
| Little Heath | 12 | 8 | 1 | 3 | 34 - 26 | 17 |
| Hemel Hempstead | 12 | 7 | 1 | 4 | 32-28 | 15 |
| Watford | 12 | 6 | 2 | 4 | 33 - 27 | 14 |
| Hertford | 12 | 4 | 3 | 5 | 32-28 | 11 |
| Royston | 12 | 4 | 3 | 5 | 30-30 | 11 |
| St Albans | 12 | 3 | 4 | 5 | 28½-31½ | 9 |
| Letchworth (relegated) | 12 | 3 | 0 | 9 | 20½-39½ | 6 |
None of the other Watford teams will be promoted or relegated, each finishing in mid-table.   There's a separate under-120 league which the Watford team has won comfortably. 
Watford teams also entered the four county knock-out cup competitions, with just one still in contention by the end of May  - in the "open" event where Watford lost on tie-break to Hemel Hempstead in the final on Monday 4 June.   
As last year, the Watford team in the separate Hertford & District League (under-160 players only) was an all-junior side - except for one match where adults had to help out.   Our team won three and drew one of its 8 matches.

JUNIOR 4 NATIONS CHESS LEAGUE
Final 2017-18 J4NCL weekend was 21-22 April 2018, again at Park Inn, Telford.   Sadly, for the first time in several years, there was no Watford representation.   Definite news is that the first two 2018-19 (29-30 September and 19-20 January) weekends will be in Peterborough with the third in Daventry on 2-3 March
Coaching session at April 2018 J4NCL (pic courtesy of Andrew Martin)
To maintain its elite status, Division 1 is restricted to teams with average strength ELO1400 (or ECF standardplay equivalent) while Division 2 is open to teams with average strength ECF85 (whether standardplay or rapidplay).  
To meet FIDE requirements, Division 1 games will be played with a longer time-control, i.e. all moves in 80 minutes but with 10 second increments from move 1.   Saturday's games will commence 10.0, 13.30 and 17.0 with Sunday's games at 10.0 and 13.30.  Coaching sessions have been retained, aligned with the Division 2 timetable, but Division 1 players will be unable to attend these unless their games finish early.  These rules appear on the 4NCL website.
More background on J4NCL appears at http://www.watfordchessclub.org/index.php/junior-4-nations-weekend
JUNIOR WAITING LIST / TRAINING
The junior waiting list has now re-opened and will remain open until 30 June.   Contact the juniors secretary, using the "Contact us" link on this website if necessary, to find how to join the waiting list.
Sunday evening training sessions (6 until 8) take place at the Coach & Horses, Croxley Green.  This is an open-to-all (club members and non-members alike) drop-in and all standards, from junior international down to near-beginner, are welcome.
There is no charge as the pub lets us have the free use of several tables - but please remember the usual rule for chess meetings held at pubs, restaurants and hotels, viz. you are not allowed to bring your own food or drink!    
Attendances on Sunday evenings have recently been low so the future of this project is under review.
 Watford coach Simon Charles plays a mini-simul against three juniors at the Coach & Horses
 NEWS IN BRIEF:
AGM date fixed for Monday 10 September
Mace Carnochan won the club championship for the Price Cup with 6/7 ahead of holder Andrew Stone on 5.5, both undefeated, and 11 other competitors
Simon Charles recorded a 100% score in a simultaneous display against 9 juniors and parents on 28 May
Jeff Tomy 5/7 (jt 3rd), 4NCL U1825 tournament,25-28 May
UK Chess Challenge, Herts South megafinal, 27 May:  Kaveer Mehta and Bruno Zheng 4.5/6, u-10 boys; Kian Shah 4.5/6, u-11 boys. 
UK Chess Challenge, Middx megafinal:  Nikhil Valecha 4.5/6, u-8 boys; Maanav Nagda 4/6, u-9 boys; Lettie Ganyushin 5.5/6, u-10 girls.
UK Chess Challenge, Herts megafinal, 5 May:  Judith Tomy 4/6, u-8 girls; Jake Tomy 5/6, Tuhin Mitra 4.5/6, Anton Pavlov 4/6, u-9 boys; Jeff Tomy 5/6, u-11 boys.
Jeff Tomy 3.5/5 (jt 5th) in Nottingham u-165, 21-22 April
Geir Erik Nielsen has set up a new YouTube channel at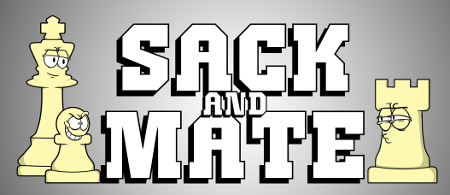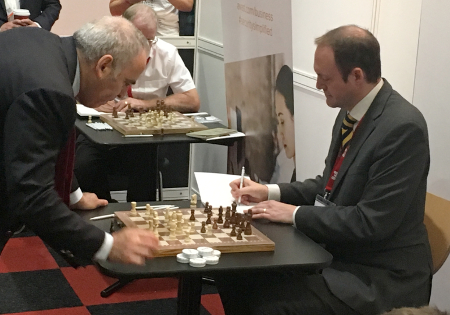 Jeremy Davies (right, above) got to meet and play ex-world champion Garry Kasparov on 4 October.
UPCOMING CONGRESSES (MAINLY LOCAL):
Until this is updated, please refer to the ECF Calendar 

4 NATIONS CHESS LEAGUE - DIVISION 4
After an inaugural season (results below - Watford finished in mid-table) to familiarise ourselves with 4NCL, the decision for next season (2018-19) is to enter a second team (and remain open to the idea of a possible third team) and for our first team to push for promotion from Division 4.   With that in mind, the club is looking for more 4NCL players both from existing members of the club - adults or juniors - and from any new members who may be interested.   (You can use the 'Contact us' facility on this webpage to get in touch).
The top three Division 4 teams were promoted at the end of the 2017-18 season, with four teams (Anglian Avengers 2, The Full Ponty, Hackney and West is Best 3) being relegated from Division 3.
Next season will see four 4NCL weekends taking place at Daventry, Northants, and one at Bedford.  All are within comfortable driving distance (roughly 85 and 60 miles respectively) of the Watford area.
 
P
 
W
D
L
GP
Pts
1
Surbiton (promoted)
11
 
8
1
2
43
17
2
CSC 2 (promoted)
11
 
7
3
1
39½
17
3
Iceni 1(promoted)
11
 
8
0
3
40½
16
4
Iceni 2
11
 
8
0
3
38½
16
5
Crowthorne
11
 
7
1
3
38
15
6
All Anands on Deck
11
 
7
1
3
37½
15
7
Kent KJCA Kestrels
11
 
6
2
3
36½
14
8
MK Phoenix 2
11
 
5
3
3
37½
13
9
Wessex B
11
 
5
3
3
37
13
10
Oxford 3
11
 
6
1
4
36
13
11
Throw in the Tal
11
 
6
1
4
35
13
12
Brown Jack 2
11
 
5
2
4
36
12
13
Poisoned Pawns 2
11
 
5
2
4
35
12
14
Watford
11
 
5
1
5
33½
11
15
West is Best 4
9
 
5
1
3
31
11
16
K Kings 2
11
 
4
2½
4½
32½
10½
17
Cambridge University 3
9
 
5
½
3½
28
10½
18
CSC 3
11
 
5
0
6
33½
10
19
Fischer's Catch
11
 
4
2
5
32½
10
20
D&D United
9
 
5
0
4
31
10
21
Camberley Juniors
11
 
3
3
5
30
9
22
Sussex Martlets 3
11
 
4
1
6
28
9
23
The Pitstop
11
 
4
0
7
31½
8
24
Brown Jack 3
11
 
3
2
6
27
8
25
Iceni 3
11
 
4
0
7
27
8
26
Barnet Knights 2
11
 
3
1
7
28½
7
27
Invicta Chess
11
 
1
2
8
21
4
28
Oxford 4
8
 
2
0
6
16
4
29
Barnet Knights 3
11
 
1
1
9
18
3
30
Barnet Knights 4
11
 
1
0
10
11½
2
Main points to note are that it's one round each day, with the rate of play 40 moves in 100 minutes (plus 30 second increments from move 1) followed by the rest of the game in 50 minutes (again with 30 second increments). That means a 60-move game could conceivably take as long as 6 hours, far longer than local league chess.  
[In a truly exceptionally long game, in Division 1, round 10, leading grandmaster David Howell took 186 moves in trying - unsuccessfully - to win a rook versus knight ending.   That game very likely went on for a massive 8 hours].
Starting times are 2.0 on the first day of a weekend, 1.0 on the middle day of a three-game weekend, and 11.0 on the final day with reserve games starting one hour later on each day.   All games are ECF-graded and FIDE-rated.
Go to http://www.4ncl.co.uk/ for more information, game scores appear at http://www.4ncl.co.uk/downloads.htm: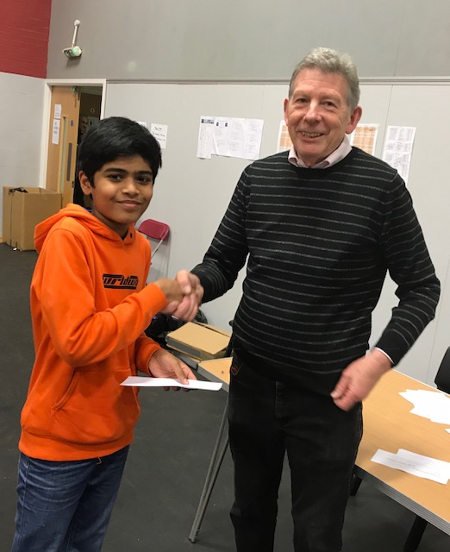 Jeff Tomy (left) collects his share of first prize at St Albans, April 2018, from chief organiser Ray Claret.
ANNUAL GENERAL MEETINGS
The club's most recent Annual General Meeting took place on Tuesday 5 September 2017 and a motion passed adjourning matters to a further session held on Tuesday 10 October, following which the following elections/appointments were made:   
post

(** = committee)

Postholders

2017-18

 
 

** President

Hanisha Gurjar & Jennifer Hurrell (joint)

** Club Secretary

Paul Littlefair 

**Treasurer

Hanisha Gurjar & Jennifer Hurrell (joint)

** Membership Secretary

Vacant 

Juniors Secretary

Roger Lancaster 

Match Captains, 2017-18

 

Andrew Stone (1st, Russell)

Mace Carnochan (2nd) 

Cecil Sloan (3rd)

Paul Littlefair (Sharp)

Sanjay Vig (4th, u-140 k-o)

Pete Edwards & Geir Erik Nielsen (joint u-120 & u-120 k-o)

Christian Bland (Hertford & District)

Sanjay Vig (4 Nations Chess League)

Various (Junior 4NCL)

Webmaster 

Geir Erik Nielsen 

Equipment Curator

Mace Carnochan  (after April 2018, vacant)

** Other Committee members

(up to 5 additional positions)

Roger Lancaster, Cecil Sloan, Sanjay Vig, Darrell Pigott (retired May 2018), Simon Charles 

Auditor

Philip Abbott 
Next Annual General Meeting provisionally scheduled for 10 September 2018.
ABERYSTWTYH 2014 - FIDE AMENDS RULES
Those interested in the history of this dispute can find details at http://watfordchessclub.org/index.php/c ... cle?id=118  The FIDE Laws of Chess now include a new law 10.2 reading "The total score of any game can never exceed the maximum score normally given for the game ..." which covers this point.     
ILLEGAL MOVES - SUMMARY OF 2018 LAWS
The 2018 Laws of Chess, which became effective on 1 January,  made several changes regarding illegal moves.   The 2018 Laws will be applied in competitive games unless the event organisers have notified in advance departures from these Laws. .   Although arbiters do have discretion to be lenient over interpretation of the Laws where young and inexperienced players are involved, it is best not to rely on this – and, of course, arbiters are unlikely to use this discretion in the case of more experienced juniors.
 First important change is that there are now four types of illegal move – (1) the original one of making an incorrect move (including taking the opponent's king – it is important to remember that this is always an illegal move!) or leaving the king in check (2) promoting a pawn and pressing one's clock without first replacing (and a upturned rook is not an acceptable substitute for a queen!) the pawn  (3) moving (including castling) using both hands and (4) starting the opponent's clock without moving.
 In the case of (1) and (3) it is always possible to remedy the illegal move as long as one does so before pressing one's clock.   Take the example of someone who uses both hands to castle and then, before pressing his or her clock, realises the mistake.   The move has not been completed (because the clock has not been pressed) so the player has the right to "uncastle" and then castle again, this time using one hand only, before pressing the clock.  
Second important change is that, in blitz and rapidplay games, one completed illegal move was sufficient to lose the game, except in the case where there was insufficient mating material.    This no longer applies. The new situation is that blitz and rapidplay rules have been brought into line with standard play rules with a first completed illegal move incurring only a time penalty.    A second such move will however lose the game except in the case of insufficient mating material.
Where one action constitutes two types of illegality – for example, a player whose king is in check castles using both hands – this shall count only as one illegal move.    And, as earlier, if the player in question recognises this before pressing his clock, he can remedy any illegality before pressing his clock.   In this particular situation, having touched both pieces, the player would be required to make any legal king move or any legal rook move depending on which the arbiter deemed he touched first.
Much of the above refers to the procedure to be followed when an illegal move is made or completed.   It is not particularly straightforward (and that's probably an under-statement) for inexperienced or young players.   My strong advice is to take care to avoid making illegal moves in the first place.    Even then, all players should have some awareness of the Laws to cater for the situation where an opponent makes or completes an illegal move.   
 In summary, if an opponent completes an illegal move, the solution is simple – stop your clock and call for the arbiter.   If the opponent makes an illegal move, but does not complete it by pressing his or her clock, wait to see what he or she does next!