The two FIDE World Cup semi-final matches (Aronian 5-4 Vachier-Lagrave and So 2.5-3.5 Ding) both went to rapidplay deciders.     The first two games of the final (Aronian v Ding) were each drawn.   See https://tbilisi2017.fide.com/ which includes live games.
4 Nations Chess League - for 2017-18, Watford will have one team in the main league and three in J4NCL.  
 Full club 2017-18 fixture list (but H&DL dates provisional only) is on "Fixtures" page
CHANGE OF VENUE - IMPORTANT NEWS
The club's present venue, Watford Town & Country Club, will shortly close its doors and the club's last night there will be Tuesday 26 September.   
As from Monday 2 October, the club will meet every Monday evening (except 30 October and 25 December 2017 and 1 January 2018) at West Herts Sports & Social Club, Park Avenue, Watford, from 6.30 to 10.45.  
Chess will be played in the Function Hall although members and visitors will also have access to the separate and comfortable lounge bar area - as well as alcoholic beverages, the bar serves tea, coffee and soft drinks and a limited range of snacks including rolls.   As previously, the first hour will be set aside mainly for juniors.   There is ample free parking on Mondays at the new venue.

JUNIOR 4 NATIONS CHESS LEAGUE
Watford has entered three teams for the first J4NCL 2017-18 weekend which takes place 30 September/1 October at De Vere Wokefield Park, near Reading, and 18 of our juniors will be spending part or all of the weekend there.   Our strongest team will play in Division 1, which this year is FIDE-rated, and the other two teams in Division 2.   
Later J4NCL weekends are 20-21 January and 21-22 April 2018 at Park Inn, Telford.   
Any other juniors interested in playing for Watford in J4NCL are invited to get in touch although, at this relatively late stage, it is highly unlikely they will be considered for weekend 1 except in the event of withdrawals from the present squad. However, they will be considered along with others for weekends 2 and 3 when - if there is sufficient demand - the club will consider running a fourth team.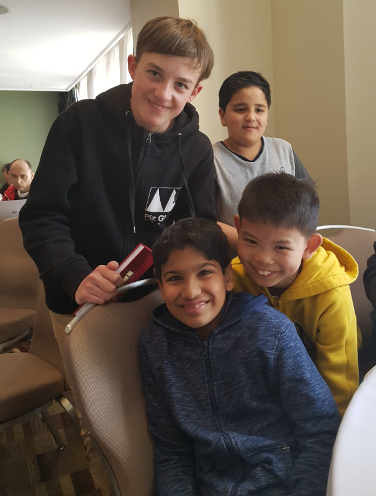 Happy juniors (L-to-R, Christian, Kaveer, Karan, Michael) at the April 2017 

J4NCL

To maintain its elite status, Division 1 is restricted to teams with average strength ELO1400 (or ECF standardplay equivalent) while Division 2 is open to teams with average strength ECF85 (whether standardplay or rapidplay).  

To meet FIDE requirements, Division 1 games will be played with a longer time-control, i.e. all moves in 80 minutes but with 10 second increments from move 1.   Saturday's games will commence 10.0, 13.30 and 17.0 with Sunday's games at 10.0 and 13.30.  Coaching sessions have been retained, aligned with the Division 2 timetable, but Division 1 players will be unable to attend these unless their games finish early.  The new rules  now appear on the 4NCL website.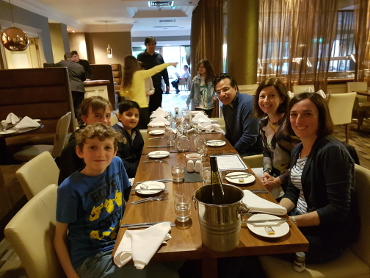 After a hard day's play at April 2017 J4NCL, 

children and parents relax over dinner  

More background on J4NCL appears at http://www.watfordchessclub.org/index.php/junior-4-nations-weekend
SIMULTANEOUS DISPLAY - 19 SEPTEMBER
Club champion Andrew Stone took on 10 club members, a lower-than-usual turnout although of good quality and including 5 juniors.   When last seen, Andrew had won eight and stood better in the two remaining games.  
NEWS IN BRIEF:
Andrew Stone scored 3/4 to win the Capel Cup (the Hertfordshire open individual championship) held 23-24 September while Sanjay Vig came second in the Bunce Cup restricted to those rated u-135
Kian Shah scored 4.5/9 (+3 =3 -3) in the European Youth u-10 championship 5-14 September in Romania.  
British championships, 28 July:  Adithya Pramod Paleri scored 5/7 (joint 3rd) in the u-12 event while Kian Shah ended on 4.5/7 (joint 6th) in the u-11 and, in the u-9, Kaveer Mehta finished with 3.5/6.  Siena Gurjar was joint girls u-8 champion with 4.5/6 while brother Roshan notched up 4/5 in the weekend under-120 competition.  
UK Chess Challenge gigafinals, 22-23 July:  Boys:  Maanav Nagda 4.5/6 (4th) in u-8, Kian Shah 5.5/6 (2nd) in u-10, Param Vyas 4.5/6 (6th) in u-13. Girls:  Lettie Ganyushin 4/6 in u-9, Anaya Popat 4/6 in u-13
A games cafe has opened at 87 Queens Road, Watford.   Distinguishing feature is that it stocks a wide range of games, including chess, for hire (cover charge, £1.50 per hour) for play at the cafe.   Menu at d20cafe.co.uk 
UPCOMING CONGRESSES (MAINLY LOCAL):
Until this is updated, please refer to the ECF Calendar 

         4 NATIONS CHESS LEAGUE - DIVISION 4 SOUTH CONFIRMED
The club has entered the 4 Nations Chess League (the adult equivalent of J4NCL, although also open to juniors) which meets over five weekends in 2017-18, starting on 11-12 November.
Team selection from Rudge, Lancaster, Nelson, Karumazondo, Dunlop, Gogna, Yassir, Sloan, Charles, Pigott, Gogna, Shah, Vig (captain), Gurjar.    For a provisional list of opposing teams, go to http://www.4ncl.co.uk/1718_teams.htm
The four later weekends are 13-14 January, 10-11 February, 24-25 March and 5-7 May (3 days), all at De Vere Wokefield Park, near Reading, making a total of 11 rounds.  All games are ECF-graded and FIDE-rated so "gold" 2017-8 ECF membership will be required. 
Main points to note are that it's one round each day, with the rate of play being 40 moves in 100 minutes (plus 30 second increments from move 1) followed by the rest of the game in 50 minutes (again with 30 second increments). That means a 60-move game could conceivably take as long as 6 hours, far longer than local league chess.   Starting times are normally 2.0 on the first day of a weekend, 1.0 on the middle day of a three-game weekend, and 11.0 on the final day of a weekend.
RAPIDPLAY TOURNAMENT, 29 AUGUST
The final ECF-graded rapidplay tournament of the summer, and the last at our old venue, took place on 29 August when the result mirrored that four weeks earlier, with Simon Charles again scoring 5/5.   Geir Erik Nielsen was runner-up on 4 ahead of David Healey and Paul Laskier, each with 3.5.   Top-placed juniors were Maanav and Kaveer with 3 points apiece.  Six adults and 10 juniors took part.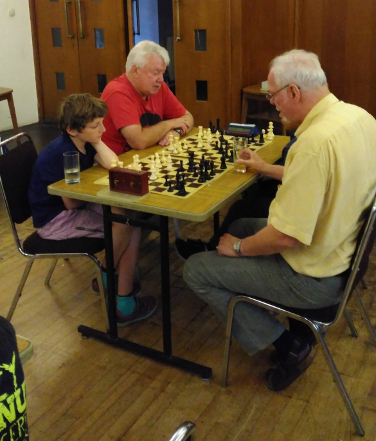 Simon Charles, en route to winning the club rapidplay on 1 August, takes on Theo Hurrell with eventual runner-up Cecil Sloan in the background
The rapidplay held at the club on Tuesday 1 August was won by Simon Charles with 5/5 ahead of Cecil Sloan (3.5) and juniors Bruno, Nikhil and Zak with 3 points apiece.   14 players took part.
JUNIOR WAITING LIST
The junior waiting list closed on 20 September but will reopen later in the year.  Use the "Contact Us" link for more information.
As well as its weekday club-nights, the club offers two-hour (6-8) training sessions on Sunday evenings at The Happy Hour pub in Eastbury Road which are free and open to non-member juniors.   You can just turn up.   At least one adult member of Watford Chess Club is always present to supervise matters.

 Jeff Tomy, joint winner of London under-10 championship, December 2016, with Southern Counties junior organiser, Angela Eyton
ANNUAL GENERAL MEETINGS
The club's Annual General Meeting took place on Tuesday 5 September 2017 and a motion passed adjourning matters to an EGM to take place in early October.   At the previous Meeting on 6 September 2016, the following appointments were made:
post

(** = committee)

Postholder

2016-17

 
 

** President

Mike Boyce

** Club Secretary

Paul Littlefair

**Treasurer

Jerry Rudge

** Membership Secretary

Vacant

Juniors Secretary

Roger Lancaster 

Tournament Secretary

Mike Boyce

Match Captains

Andrew Stone (1st, Russell)

Mace Carnochan (2nd) 

Cecil Sloan (3rd)

Paul Littlefair (Sharp)

Sanjay Vig (4th, u-140 k-o)

Pete Edwards (u-120 & u-120 k-o)

Christian Bland (Hertford & District)

Webmaster

Geir Erik Nielsen

Equipment Curator

Mace Carnochan

** Other Committee members

(up to 5 additional positions)

Roger Lancaster

Cecil Sloan

Sanjay Vig (appointed September 2017)

Darrell Pigott (appointed September 2017)

Auditor

Philip Abbott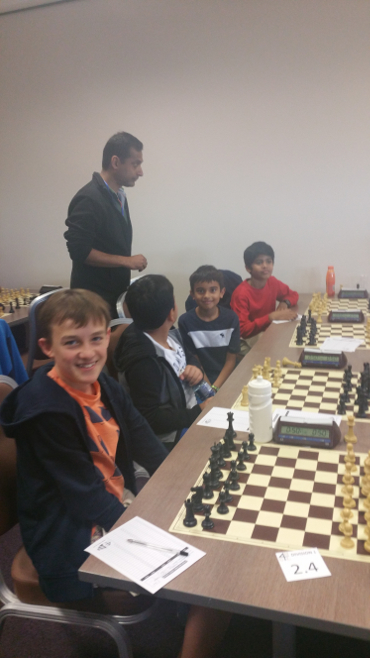 Watford J4NCL team in October 2016 - seated L to R, Christian, Karan, Kian, Jeff

HERTFORDSHIRE CHESS LEAGUE, 2016/7
 Slip-ups by opposing teams meant that Watford narrowly retained the Division 1 title, which they have now won for the 5th consecutive year, before completing a "double" by winning the county open knock-out cup (known as the Russell Trophy) for the third time in those years.
Watford amassed 15 match-points (+6 =3 -3) from a maximum of 24. In a close finish, this left them just ahead of Hemel Hempstead and Little Heath (both with 14 match-points), Royston (13), Hertford (12), St Albans (10) and Bishops Stortford whose total of 6 match-points meant relegation.
Watford 2 (+5 =1 -6) and Watford 3 (+1 =1 -10) each played in Division 2, with the former ending in mid-table but the latter relegated.   Watford 4 (+10 =1 -3) won its last match to gain promotion, albeit only on tie-break, from Division 5. Another Watford team finished third (+8 =2 -4) of eight teams in the related under-120 league while yet another lost to Stevenage in the final of the county under-140 knockout cup.
The separate Hertford & District League, restricted to players graded under 160, was contested by the club's junior team (+1 =1 -6) against adult opposition. The juniors found the opposition tough but enjoyed the experience.  Full results of all events may be found in the "Latest Results" section.
LAWS OF CHESS - NEW LAWS INTRODUCED JULY 2017
A new set of Laws of Chess became effective on 1 July.   Among other changes, two additions were made to the list of what constitutes an "illegal move", namely (1) using two hands rather than one and (2) pressing one's clock without first having made a move.   Such actions are now capable, in themselves, of losing a game.
KEITH ARKELL SIMULTANEOUS
The English Chess Federation's "Chess Master @ The Local" programme arrived at The Happy Hour pub in Eastbury Road, Watford, on 25 August 2016   
Local juniors turned out in numbers to take on grandmaster Keith Arkell, along with some adult members of the club and rather more members of the general public who had been attracted by the publicity.   In all, 20 people played against Keith (a couple more than once!) but only former Zimbabwean international Ernest Karumazondo prevailed.
For more information, go to this Watford Observer article
ABERYSTWTYH 2014 - FIDE AMENDS RULES
Those interested in the history of this dispute can find details at http://watfordchessclub.org/index.php/c ... cle?id=118  
The new draft FIDE Laws of Chess, just published, include a new law 10.2 reading "The total score of any game can never exceed the maximum score normally given for the game ..." which covers this point.    
INTERIM CHILD PROTECTION POLICY
Club members are asked to note the addition, effective 2 November 2015, of an extra sentence reading "The Interim Child Protection Policy shall be interpreted as applying to vulnerable adults as well as to children."